You're Invited to "Level Up" to
Trade of the Day Plus
And Get an 83% Win Rate – Guaranteed!
Dear Reader,
If you're ready to start investing...
But you're worried about making the wrong move...
You've come to the right place – because I'm guaranteeing you an 83% win rate on every single trade you make.
In fact, I'll do you one better...
I'm so confident...
I'll guarantee that you'll BEAT my win rate from 2021.
That's what you'll get by joining my premier service, Trade of the Day Plus.
Why am I so confident?
It dates back to 1999 – when I started trading in the Apple Computer trading pit on the Chicago Board Options Exchange (CBOE).
That's where I learned from the pros how to pick winning stocks from the pros.
And today, I've honed those skills to anticipate every event that's influencing the current market conditions... and I distill it all down into the most potentially lucrative investment recommendation possible.
After many years of doing this, I can tell you that the key consideration on every trade is this...
Time It Right
You see, finding the precise moment to make your trade could be the one and only difference between a sizable profit and a frustrating loss.
That's why my new "idea-sharing" research service is perfect for you.
It's simple... it's accurate... and it's very inexpensive.
It takes you just five minutes per week to review.
And best of all, it gives you proper timing unlike anything else available for this price.
Are you ready to stop buying garbage stocks?
Here's how it works...
Every day the markets are open, I carefully observe what's going on in the markets, the world news and specific investment vehicles.
I filter through it all and cherry-pick the one idea that I consider to be the best-timed recommendation to share with you given the current market conditions.
Then, I'll make a video recording of that pick – telling you the exact play to make at the exact time along with all of my analysis – and send it to you after the close of trading every Wednesday.
Each week... this is the one idea that you can act on immediately – above everything else.
Some weeks we put out a big-name stock you'll recognize – like Ford (NYSE: F).
Karim recommended it to readers on August 19, 2021, at around $13 a share.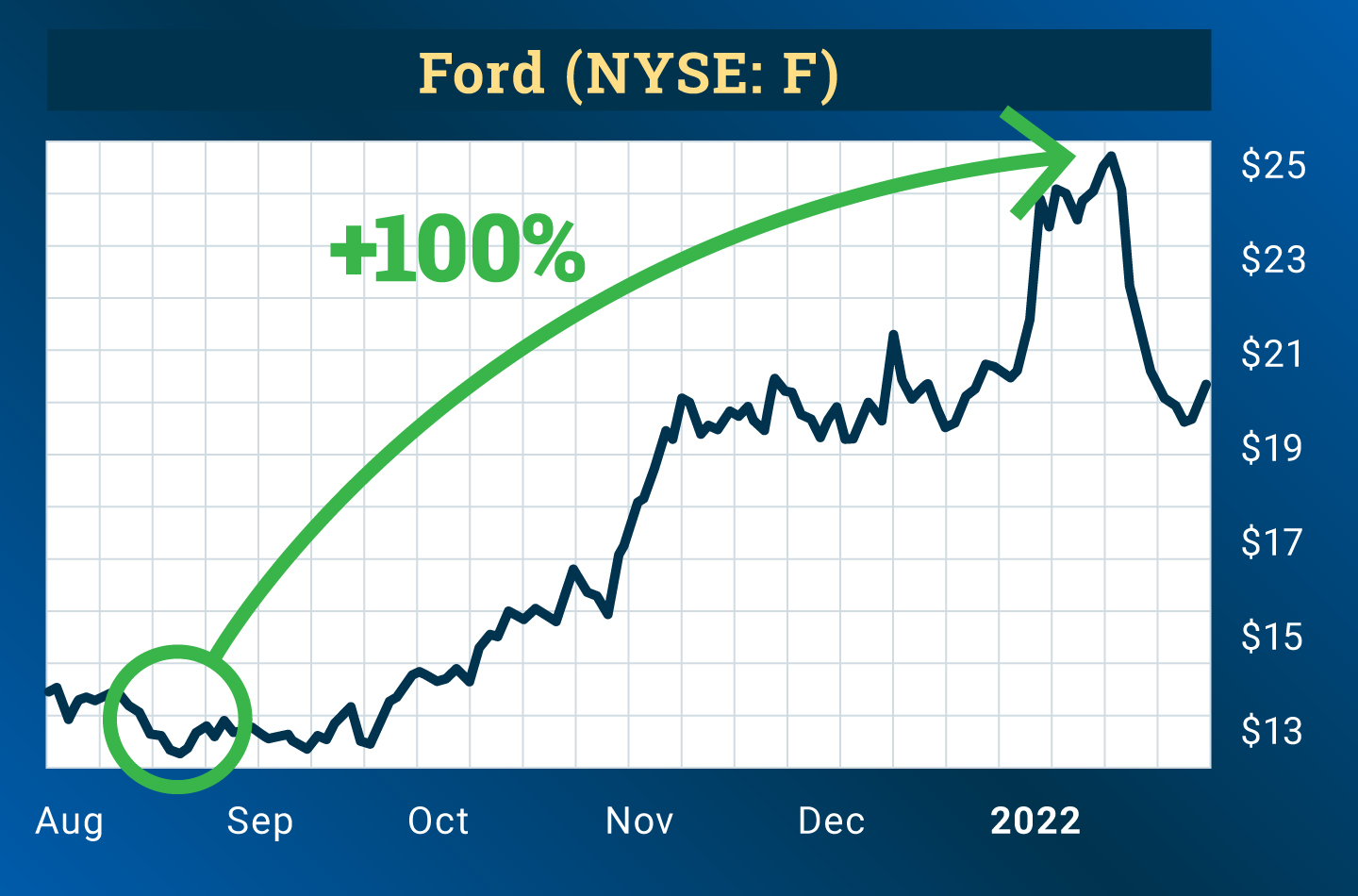 Just a couple of months later, the shares took off to over $25 and we rang the register on the classic American carmaker.
Other weeks, we've tried special speculation plays – like Rocket Companies (NYSE: RKT) or TripAdvisor (Nasdaq: TRIP).
We recommended those on February 4, 2021, and December 10, 2020, respectively.
We even picked a small cap company with huge upside potential – genetics pioneer Jasper Therapeutics (Nasdaq: JSPR).
Jasper Therapeutics was around $8 when we recommended it in October 2021 – only for it to explode to over $17 before the end of the month!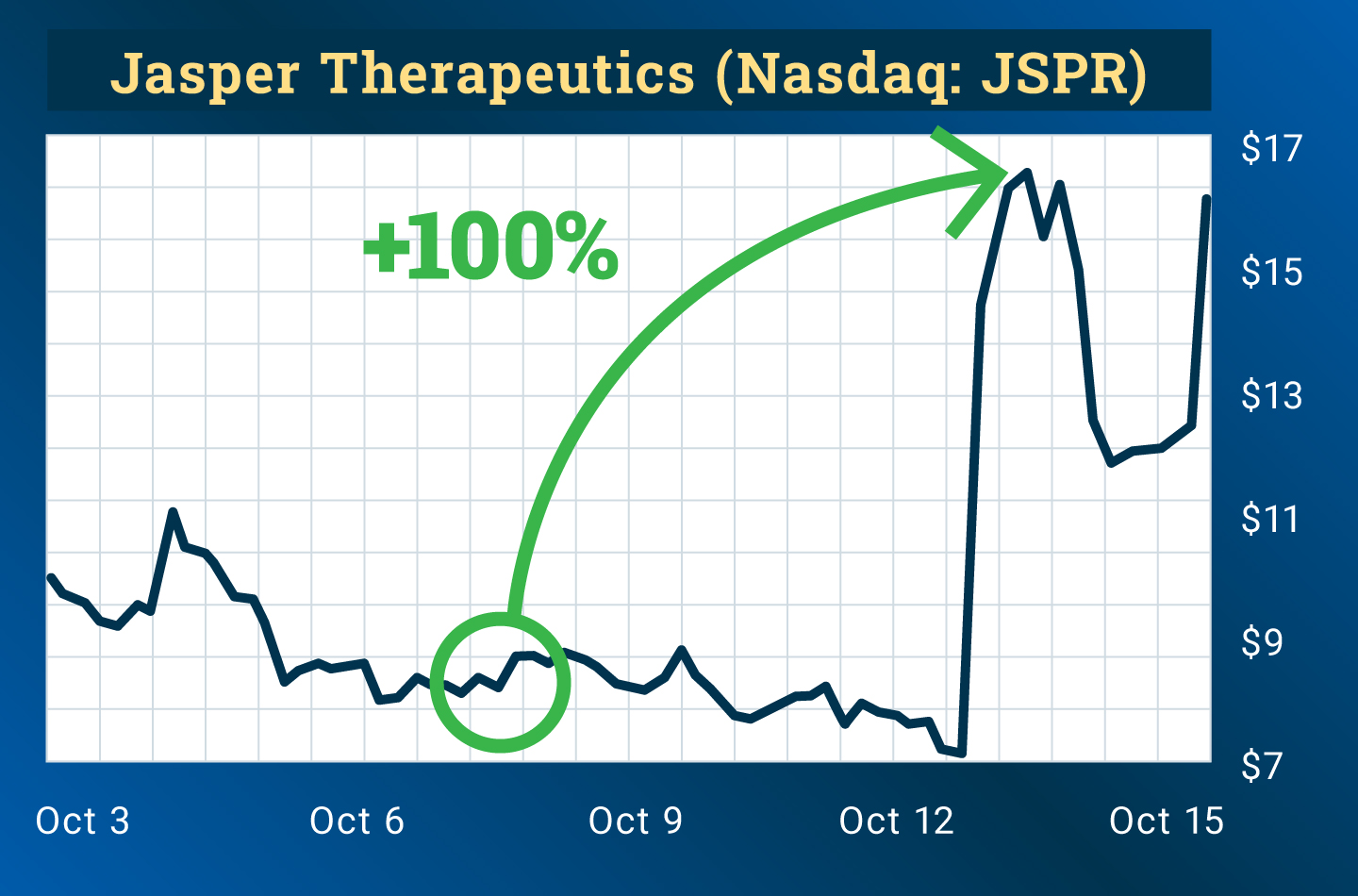 That's a 100%-plus price move less than seven days after we recommended it...
The point is...
This Methodology Works
Large cap stocks... small cap stocks... or even a promising biotech...
Whatever strategy offers the best-timed entry that week, I'll share it with you.
Nothing is off the table.
No matter what the pick, you'll get all of my research, as well as the exact details of that specific recommendation – including the ticker symbol – every single Wednesday afternoon.
The best part is...
It doesn't matter whether you are an investing pro or you've never bought a stock in your life...
You can benefit from my weekly investment ideas – regardless of your experience level, portfolio size, or investment background.
You can make money.
That's a HUGE benefit to you...
Because instead of paying the $1,500... $3,000... or even $10,000 that some other investment services charge these days...
You'll pay just $79 for one full year of Trade of the Day Plus.
That's around $0.21 per day to receive the single best recommendation I can find that'll help you succeed in current market conditions – each and every week.
I'll send you the full details every Wednesday after the markets close.
And best of all...
My top idea comes to you in live video format.
It takes you only a few minutes to watch... plus a minute or so to place your trade for the next day (if you choose).
This allows you to get the full details of that week's opportunity and get on with your day... confident you have the best-timed trading idea to help you succeed in current market conditions.
It's the best way I know to keep things simple for you... and it's very inexpensive...
All while giving you the best-timed financial insights – every single week.
So if you've ever wanted access to the best-timed investment recommendations every week...
Without adding more to your endless pile of reading materials...
And without paying the thousands of dollars others normally pay for the same ideas...
A simple $79 yearly subscription to Trade of the Day Plus is perfect for you.
I invite you to give it a try today.
There's no catch. No lifetime commitment. No strings attached.
You can cancel anytime.
Once you activate your subscription...
I'll begin sending you my live video recordings every Wednesday.
Each idea represents the very best recommendation I can find for you to succeed in current market conditions that week.
You'll know the exact details on the play – each and every week.
It'll take you just a few minutes to watch the video and understand the timing.
If you like the idea and you think it's right for you, feel free to take action on it the moment the markets open the next day.
And if it's not for you... no problem at all.
You'll be up to speed on what's going on... and you can enter the next week's play if you choose.
Getting Started Is Simple
I've prepared a secure subscription form for you below.
Review the details and enter your billing information.
Your card will be billed just $79 to activate your subscription today.
If you ever decide that my simple idea-sharing service isn't right for you, no problem at all.
Just give our Baltimore-based Member Support Squad a quick call, and they'll close your access to your Trade of the Day Plus account immediately.
(Please note that all refunds are prorated based on your membership date, and you can cancel at any time.)
Above all... I'm looking forward to sharing my best-timed ideas with you – starting this Wednesday.
Yours in smart speculation,
Bryan Bottarelli
Founder, Monument Traders Alliance
P.S. Some quick things to emphasize...
First, I'll give you my best-timed play every single week. I'll tell you exactly when to buy. I'll also give you guidelines on exactly when to sell. I'm with you the entire way. My research team will also provide you with updates on previous weeks' trades – just to keep you fully looped in on every single position in our model portfolio.
Second, there are no strings attached. There's no big down payment... no commitment... no catch. You're simply getting the best-timed investment ideas that I uncover – every single Wednesday – all for less than a quarter per day. Activate your subscription today, and I'll send you my first video this Wednesday after the market closes. And you can cancel at any time, no questions asked.
And third, you'll also get full access to our Trade of the Day Plus track record and our entire library of Trade of the Day Plus archives – where you can access all of our past trade recommendations, videos, current holdings and premium research content. And again, you get all this for around $0.21 per day. If you want to get started, you're invited to activate your Trade of the Day Plus subscription today!